Noto is, quite simply, the apotheosis of Baroque town planning and architecture. Completely destroyed by the terrible 1693 earthquake, it was rebuilt from scratch on a new site, about 10km from the old centre.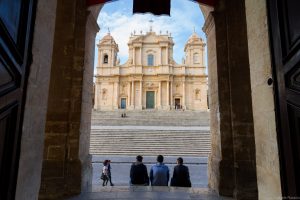 Under the supervision of the Duke of Camastra, the Spanish Viceroy's right-hand man, three architects, Labisi, Sinatra and Gagliardi, set to work, intent on creating a new town based firmly on Baroque ideals.
The idea was to create a linear, perfectly proportioned urban centre whose parallel lines would provide myriad panoramas. The town was divided into three parts by three roads running from east to west, thus ensuring the constant attentions of the sun. At the top lived the nobility, in the middle the clergy, and at the bottom, "hoi polloi".
The main building material used was local compacted limestone, a substance that seemingly absorbs the sun's aureate rays and transforms them into a soft golden-honeyed glow. The effect at sunset is quite something.
The main thoroughfare is Corso Vittorio Emanuele along which many of Noto's most representative buildings stand. It begins at the Porta Reale and extends east via three piazzas, each with its own church. The public gardens are situated along this road (or at least looking on to it) as are the Monastero del Santissimo Salvatore with its graceful tower, the inspired Palazzo Ducrezio, the Cathedral (whose dome collapsed in 1996), the Church of San Francesco, the Jesuit Church and College and Palazzo Nicolaci di Villadorata.
Noto is, quite simply, the apotheosis of Baroque town planning and architecture.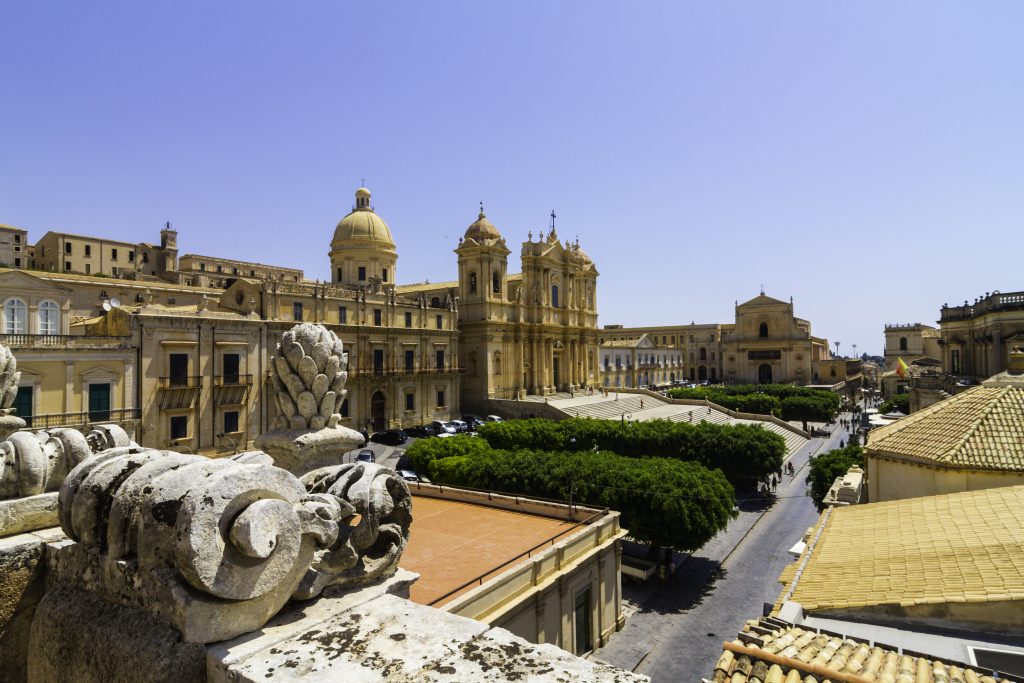 All these buildings are obviously Baroque in style but each is unique with its own fascinating design. The architects seem to have been given free reign to run through the whole gamut of late 17th Century architectural devices and forms with a virtuosity that has visitors almost chuckling at their originality. Curvaceous concave facades battle for supremacy next to their convex cousins, while rectilinear edifices frown regally at their presumptuous frivolity. Grotesque masks, cherubs and curlicues jostle with volutes and other embellishments, and puffed-up wrought iron goose breasted balconies abound.
Near the end of the Corso is Piazza XVI Maggio with its magnificent Church of San Domenico and a magnificent Fountain of Hercules.
Running parallel to Corso Vittorio Emanuele further up the town is Via Cavour, the home of elaborate noble palaces including Palazzo Astuto and Palazzo Trigona Cannicarao.
At the end of May, Noto celebrates the marvels of Spring and the coming summer with a colourful "Festa" known as the "Infiorita". The street of Corrado Nicolaci becomes home to flower artists who create the most beautiful mosaics using petals.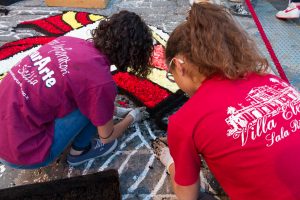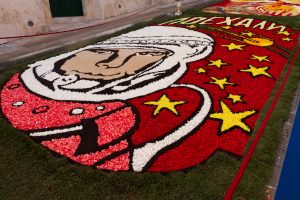 A UNESCO Heritage site, Noto is not to be missed, even if Baroque architecture is not your cup of tea. More than just a "Baroque" town, it is a subliminal expression of originality, fantasy, obsession and man's resilience in the face of the overwhelming force of nature.
For more information please visit: